Alarm Clock Ultimate HD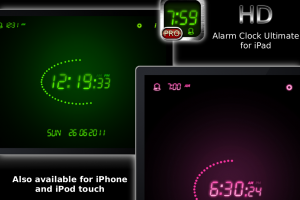 The Best Alarm Clock
Alarm Clock Ultimate HD is not only the most powerful but also the most smart alarm clock. Other alarm clocks don't have the power, need too much energy, are too hard to use. They won't wake you up and remember you so that they are not usable.
Alarm Clock Ultimate HD combines things other alarm clocks can do with efficient power management, great (and readable) design, news display, background alarms and more… It even has an integrated flashlight.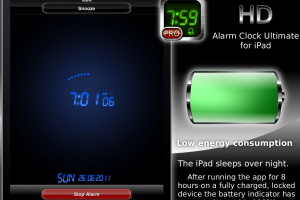 Powerful
✓ Works when the device is locked
✓ Background notifications
✓ Very little energy consumption, your battery does not get drained over night because the device sleeps!
✓ Configure Alarms
✓ Wake up to your iPod music
✓ Stop/Snooze Alarms
✓ Show News
✓ Flashlight (Display/LED)
✓ Vibration
✓ iPad version
Intuitive
✓ Supports every rotation
✓ 12/24-hour mode
✓ Great HD Art
✓ 8 themes (+ more in the near future)
✓ Customize the app, switch between themes, hide elements you don't need
✓ Animations
✓ Slide to adjust brightness
✓ Shake to toggle Flashlight (Display/LED)
The Best
✓ It just works (which is not guaranteed with every alarm clock you find in the app store), don't worry, there are instructions!
Where else can you get such an alarm clock for 1 USD?!
Get the latest news! Subscribe to our monthly newsletter for free
Screenshots
Reviews
A clever, well thought out app. Has all the features you need, and looks good. It's the first app that seems to genuinely turn the screen brightness down after a few minutes, so not too bright at all.

I'd like to see a few different themes, but overall very good

Ian Shufflebotham
Reviews
A clever, well thought out app. Has all the features you need, and looks good. It's the first app that seems to genuinely turn the screen brightness down after a few minutes, so not too bright at all.

I'd like to see a few different themes, but overall very good

Ian Shufflebotham