App Deals – The best price tracker available

Save hundreds of dollars!
Keep track of the price development of apps and buy when they are on sale!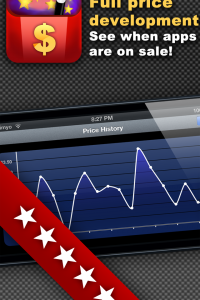 Bargain-Hunter
The bargain-hunter for the App Store. Start downloading the apps you want for the cheapest price!
App Deals is not only a simple faked "app a day"-app, instead it is a groundbreaking solution helping you to save your money!
All sales, offers and promotions running are found by App Deals with ease.
How does it work?
You add your future purchases and favorite apps to the wish list. App Deals will start checking the price of the apps every time you use it. This will give you real-time prices and let you see the current prices. In addition to that App Deals visualizes the data by drawing a great looking plot.
Features
✔ Browse the App Store to find your favorite apps: Charts, a powerful search and special hand-picked deals will give you great recommendations for future purchases and complement the default AppStore.
✔ Charts: Quickly see what's popular.
✔ Search: Search hundreds of thousands of apps.
✔ Hand-picked deals: You will wonder what gems are waiting to be used.
Price-history
✔ See how the price of an app changed in a beautiful graph.
★ Polished user-interface ★
✔ Polished graphics with retina-quality
✔ Ad-free
✔ Most intuitive list: Quickly browse thousands of apps by collapsable app screenshots.
★ ALWAYS REMEMBER: This app will save you money because you see when it's the best time to download an app. Heavy users are able to save hundreds of dollars! ★
Get the latest news! Subscribe to our monthly newsletter for free
Screenshots
Reviews
I love the way this app interacts with its users. Its simple UI makes it fun to check when apps are on sale.

David Wittich
I hate to pay $5 for an app and seeing that it just got on sale and costs $1 the next day. This times are over!

Balthasar Bullmann