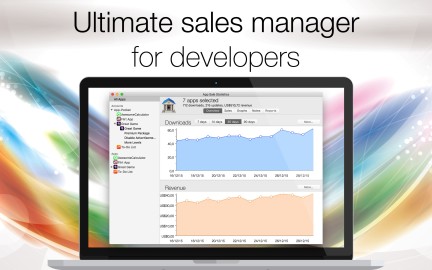 Finally the wait is over. The must-have-tool for all iOS, Mac and Apple TV developers is now available on the AppStore!

Leading Sales Manager
Monitor, track and analyse sales, revenue, downloads, in-app-purchases and much more! Analyse the success of advertising campaigns, improve your revenue model and develop more efficient marketing strategies.
AppSales is the leading native Mac app to analyse the success of your apps available on the App Store. With AppSales you will always know exactly how much you've earned and how you can improve your earnings!
Automatic Report Downloads
AppSales automatically downloads all your sale statistics from iTunes Connect and keeps the data up-to-date. All your reports are stored locally on your Mac. You can access them always and everywhere, even without an active internet connection.
Multiple iTunes Connect Accounts
The app supports multiple iTunes-Connect-Accounts at the same time and automatically downloads all data for the accounts.
Dashboard
A great Dashboard gives you quick insights into the performance of your apps. It shows you the statistics that matter most: E.g. revenue and downloads by day, category and country.
Detailed charts and graphs
Furthermore, the app features detailed charts and graphs with powerful filtering tools. See long-term trends, sales, filter products, see when your app is gifted or promo codes are redeemed. Analyse downloads and revenue by country, category and platform.
Interactive world map
An interactive world map makes it easy to see where your revenue is coming from.
Data export
AppSales offers a range of different export formats. Exporting data makes it easy to create custom charts with Excel or Numbers.
Annotate your charts
AppSales makes it possible to create notes within your charts. This way, you can easily add important events to your charts. You can easily highlight when your app is featured, an ad campaign is launched or the app gets a review by the press.
No ongoing costs
We do all hate subscriptions, don't we? That's the reason why AppSales is a one-time-purchase!
Highlights
● The ultimate sales manager for every developer
● Keep track of downloads, sales, refunds, gifts, in-app-purchases and revenue
● Awesome dashboard: Overview of the most important sales data
● Powerful filters
● Detailed charts for long-term trends, rolling averages, sales by country, category and platform
● Interactive world map
● Automatic report downloads from iTunes Connect
● Manually import sales reports from your Mac
● All data is stored locally. No internet connection required.
● Automatic currency conversion to your local currency
● Total sales, revenue and updates
● Annotate your charts
● Supports an unlimited number of iTunes-Connect Accounts
● Data export
With AppSales you can focus on building great apps. Tracking the success of your apps has never been easier.
Download AppSales now!
Get the latest news! Subscribe to our monthly newsletter for free
Screenshots
Reviews
Awesome tool! It is far better than the iTunes-Connect website. I love it and can recommend it!

Sahra
The tool I have been waiting for! I am a freelancer and make a living with developing apps. After so many years finally a decent tool to track the success of apps was released. The sale stats are great and much easier to understand! Keep up the great work!

Peter