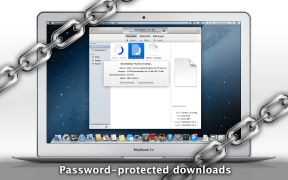 Protect your Mac
Avoid embarrassing situations!
Easily download photos, videos, music, PDFs and everything else with DownloadVault. The app takes advantage of the latest technologies to provide a both intuitive and secure way of downloading private files: You can download files with the help of the integrated private web browser or add previously downloaded files to the vault.

Your Downloads
All your download are automatically password-protected and can only be accessed by entering your password. This helps to prevent other people from seeing private files and ensures higher protection against thefts.
You can download all file types you can think of to the app. Download Vault supports downloading multiple files at once and pausing/resuming downloads. In addition to that, Download Vault is also able to preview nearly every file. Within the app you can watch your videos and preview your photos and documents, e.g. in full-screen mode.
Features
-Password-protected downloads
-Private web browsing and easy downloading with the integrated web browser: No history stored
-Password-protected bookmarks
-Download multiple files at once; pause or resume your downloads
-Prevents unwanted looks at your downloaded from business partners, friends and family
-Directly view your private downloads without leaving the app
-Integrated video playback and document preview
-Intuitive and modern user interface
-Full-screen preview
-Export your downloads to remove the password-protection
-Notifications for finished and failed downloads
Advanced Features
-Hotkey for ultrafast access
-Sort private files into groups
-Preview multiple files at once
-Import files from Finder
Downloading private files was never so easy. Take advantage of the power of Download Vault now!
Get the latest news! Subscribe to our monthly newsletter for free
Screenshots
Reviews
I love DownloadVault on my new MacBook Air. With DownloadVault I am not concerned about thefts anymore. I know that my downloads are protected.

David Wittich
Comment, Request & Bug Report
Please be sure to include your mail address!