The EXCLUSIVE, UNIQUE and FIRST download manager for Safari! It is the original and ultimate tool developed just for Mac OS X.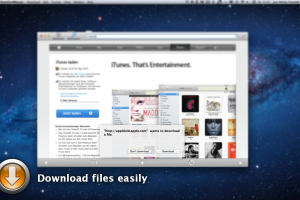 DownloadMaster
DownloadMaster is the most intuitive tool to manage your downloads – With one click you can view, pause, cancel, resume and preview your downloads.
With DownloadMaster downloading is easier than ever before. Forget all the hassles, from now on you will never close your web browser by accident – because you will never use your browser to download again.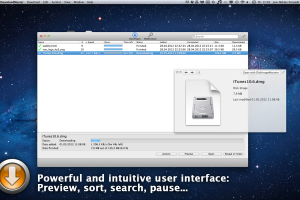 Why DownloadMaster?
Webbrowsers are very likely to have simplified download managers. They are not able to sort, search or preview downloads which leads to a very unorganized list of files.
DownloadMaster is not only able to download, sort and preview files, it has an integrated webbrowser with optional private mode, its own bookmarks and much more.
Features
✓ Download files
✓ Pause and resume downloads
✓ Powerful list view with lots of information about your downloads: Size, progress, data received, date added/date completed, …
✓ Search & sort downloads
✓ See the currently running downloads in the Dock
✓ Preview all your downloads with one click
✓ Lightning fast webbrowser with own bookmarks, history, private mode and much more
✓ Great & intuitive user interface
✓ Optimized for Mountain Lion
Get the latest news! Subscribe to our monthly newsletter for free
Screenshots
Reviews
A Great Safari Download Manager

A good Safari download manager, I have tried it on 10.8 with Safari 6 and it works fine.

My only criticisms/suggestions is that it is only a dock app, it would be good it you could run it as a menubar item and turn it off in the dock.
Also it would be great if it was more integrated with Safari (maybe using an extension?)

William Winter
Reviews
A Great Safari Download Manager

A good Safari download manager, I have tried it on 10.8 with Safari 6 and it works fine.

My only criticisms/suggestions is that it is only a dock app, it would be good it you could run it as a menubar item and turn it off in the dock.
Also it would be great if it was more integrated with Safari (maybe using an extension?)

William Winter