i.Event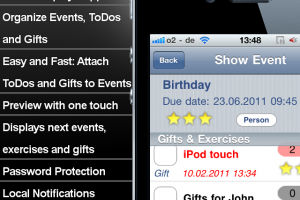 About i.Event
i.Event is an app helping you to organize and prepare your family events, meetings, parties, etc.
It allows you to create Events, Exercises and Gifts and is equipped with many easy to use but advanced features: Checklists, Groups, Notifications (Alarms), Password Protection, Due Dates, Badge Updating, Automatic Sorting, Home Screen with direct Overview…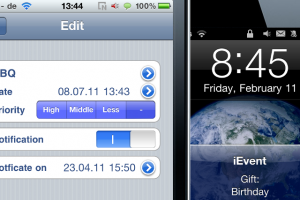 Features
-FAST: Attach Gift and Exercise Groups to Events, you will not need to rewrite everything! It is possible to attach Gifts and Exercises as often as you want and will help you to increase your productivity because every change made in one of the sections will be directly synchronized to the other sections!
-Clear and Intuitive User Interface
-Detailed lists showing the most important information
-Notifications: Get remembered when your device is locked or the app is not running / running in the background (iOS 4 only) + inApp-Alert
-Checklists for quick use
-Groups: Create groups (e.g. for people to organize gifts and exercises)
-Supports different time styles ( 15:15 / 3:15 PM )
-Multi-Tasking/Retina Support
-Home Screen showing the next as well as the today's events, exercises and gifts
-Customize Events, Exercises and Gifts with Notes, Due Dates, Alerts, Priority, Contacts..
-Import Contacts and add information to them
-Fast setting up of notifications through templates (manually selecting date + time is also possible)
-Secure through password protection
Get the latest news! Subscribe to our monthly newsletter for free
Screenshots
Reviews
Nice! Like it.

David Wittich