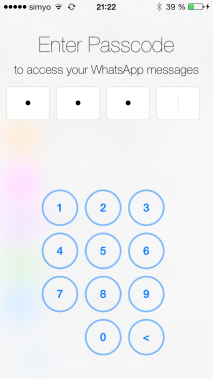 Password Protection for WhatsApp-messages!
Access your WhatsApp-messages on your iPad, iPod touch and your iPhone!
Your messages belong to you and not everybody who uses your iPhone, iPod touch or iPad should be able to read them. With Password for WhatsApp nobody except you will be able to read your messages or view your private photos and videos.
Recommended by a variety of websites
Enforce PIN on WhatsApp
https://www.bestvpnz.com/how-private-is-whatsapp/
"For a little extra protection, in case your phone ends up in the wrong hands, you can download a simple app which will enforce an additional PIN code to your messenger."

BestVPNZ.com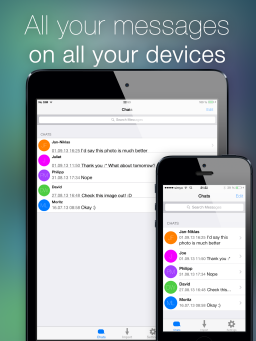 Featuring a Revolutionary Sync
Password for WhatsApp can import all your chat histories, including all photos, videos and audio files and let them access you from all your iPhones, iPods and iPads.
Personal Messages
Assign custom colors to your chat histories and suddenly the chat with your friends might consist out of orange chat bubbles instead of blue ones.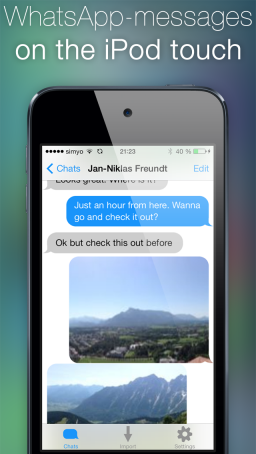 Endless Scrolling
Do you hate it when you need to press "Load the next messages" button when you are searching for a specific message? That's why Password for WhatsApp features endless scrolling.
Features
-Password protect all your WhatsApp-messages
-Protect photos, videos and audio files
-Sync your messages across all devices
-WhatsApp-chats on iPod and iPad. Please note that you need at least one iPhone with WhatsApp installed!
-Custom-colored chat bubbles
-Endless scrolling
Disclaimer:
Unofficial Product. This application is the sole creation and responsibility of the developer. This application is not endorsed by or affiliated with WhatsApp Inc. WhatsApp Messenger, its name, trademark, and other aspects of the app are trademarked and owned by their respective owners.
If you believe that there has been a contravention of your proprietary rights, please email details to:
support@app-pocket.com
Get the latest news! Subscribe to our monthly newsletter for free
Screenshots
Reviews
Thank you for making this app! It's simply phenomenal to password-protect WhatsApp.

David Wittich
At first I was a bit sceptical. Password protection for WhatsApp without a jailbreak?!
It turns out to be a great utility. At first you mail yourself your chat histories and with one tap they are imported into "Password for WhatsApp".
That's it!

Balthasar Bullmann