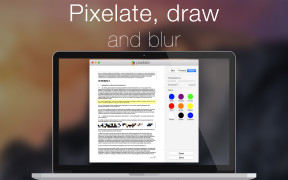 Redact your images
Pixelate helps you to redact parts of your photos and images quickly. Hide sensitive details of your documents, agreements, passport, driver's license and everything else you can think of. The app helps to protect your privacy.
Furthermore, it is also pretty easy to censor your photos and create some cool effects


Super easy to use
Pixelate is super easy to use. Simply click and drag to start redacting your images.
Pixelate offers three different tools with different settings:
Highlights
• Pixelate parts of your image
• Draw
• Blur
Share your creation on Facebook or Twitter, copy, mail, save or print it!
Download Pixelate now and redact your images!
Get the latest news! Subscribe to our monthly newsletter for free
Screenshots
Reviews
Awesome app! I needed to upload a testimony and used this app to make some parts of it unreadable.

Tom
Comment, Request & Bug Report
Please be sure to include your mail address!